Goldendoodles
CONTACT INFORMATION:
SIEVERS RETRIEVERS
204 EAST TEPEN HOLLOW RD
MEPPEN, IL 62013
PHONE #: (618) 396-2494
CELL #: (618) 946-0617
EMAIL: sieversretrievers@yahoo.com
We are open by appointment only right now!
*** Please see our expectant litters page for the litters not born yet***
*** DELIVERY FOR YOUR NEW PUPPY DEPENDING ON HOW FAR OR CAN BE SHIPPED DEPENDING ON WEATHER, PLEASE ASK US FOR MORE INFORMATION ABOUT THIS OFFER. EXTRA CHARGE FOR DELIVERY AND SHIPPING! ***

We breed all of our litters for good FAMILY DOGS, INTELLIGENT WORKING dogs with a CALM disposition, GREAT TEMPERAMENTS and nothing that will DESTROY your home. All of our puppies are 98-99% in home family pets but can be used for working dogs and much more!
Ava is six months old now. 18 pounds and growing! Housebroken. She is a good girl and very much loved.
Thanks,
The Robinsons
Hi Roger and Sievers Retrievers-
I just wanted to write and tell you about our wonderful puppy Yadi, a miniature Golden doodle from Sydney and Cooper born November 19, 2010. He is now 8 months old and extremely spoiled! We decided to get our puppy from you because of the great things we had heard about the temperament of your dogs. I have to say we are VERY pleased with Yadi. He was potty trained within 6 weeks of having him at home, I credit this to the Potty Time Chimes. He is the center of attention everywhere he goes. He has been a joy to train and has not attended any puppy classes, we were able to train him all on our own. Currently he is able to fetch, sit, shake, lay down, roll over, and speak. He currently weighs about 28 pounds and is growing. I would expect him to be about 35-40 pounds when fully grown. He is just what we wanted, not to big but not tiny. We are very pleased with our puppy, Yadi and I have recommended Sievers Retrievers to friends who are looking for a puppy. We look forward to spending many years with Yadi! Thank you, Sievers Retrievers.
Ellen Heffington
We are the very pleased owners of Brady who is out of the 8/1/12 Sally and Cooper litter. He's growing like a weed. Before long I won't be able to carry him around! We started puppy kindergarten Monday night. He catches on quickly and I've never seen a dog who loved being with other dogs, and people, as much as he does. If we can just get past the teething stage, we'll have this puppy thing knocked. Also, he's doing well with house breaking and has from day one. I'm attaching a picture we took with my teddy bear collection. I think it's pretty cute and thought you'd enjoy seeing it.
All the best,
Michelle Linneweh
Hi Carla! Of course! Bella is a stunning girl that gets attention everywhere she goes. Everyone is amazed that she is a miniature golden doodle and loves her sweet personality and teddy bear looks. She seems to have the best of both worlds for the friendliness of the golden and the sensitivity/ intelligence of the poodle. She is 9 months old and weighs 22 lbs. I am quite sure she will remain under 25 lbs because she has been 21-22 lbs for the last three months. We have always been a family who has owned golden retrievers and a full sized golden doodle. Bella is the smallest dog we have ever owned but she has a full sized personality- except she eats less, poops smaller, and takes less room up in our bed. 🙂 She is perfect!
I do not find her hair anywhere in the house which is true of most doodles. I brush her on a regular basis and it is amazing how little hair collects in the brush…. nothing like owning a shedding pup.
Using the potty chimes really helped learn her cues when she wanted or needed to go outside. She learned to use the chimes on her own right at 8 weeks old and still uses them. There was a time, earlier on, that she started to submissive pee when she was really happy to see us come home. We did a little research on dog behavior and learned to modify our own behaviors so we wouldn't be encouraging her to do this. The good news is that she no longer does.
I am so in love with this little beauty and thank you for putting her in our lives. I am sending a puppy picture of her, a 4 month picture of her, and a couple recent pics of her. I hope you enjoy them!
~Mary Jordan- and family!
We picked up Lucy on a crazy, snowy February 5th morning. There was no way snow was going to keep us away! She's been a joy ever since I picked her up. Lucy gets along with older & younger cats, older & younger dogs, adults, kids, – you name it! It's amazing to see her reactions and socializing with everyone/thing she interacts with. Whether it's a "high five" paw, nuzzle on your neck, or bringing you her toy to play, it's been a real treasure. Lucy graduated from Support Dogs Puppy class in May, and we're planning to enroll in the next class in September. She knows to let everyone know when she has to go do her business outside, the potty bells were great in the winter and a great tool. She is crate trained, however, she's mastered the potty training and sleeps on her pillow every night outside her crate. She has all of her basic commands, sit, down, stay, here and leave it. She's been working on sign language commands recently and is doing great.
I think she was born on November 19, parents are Cooper & Sydney. She's now 8 months old, and weighs 17 pounds. She looks bigger however, that's just her hair. When she gets her bath, she looks skinny! She's spayed and bounced back from her surgery with ease!
Every now and then I tell her, we're going to get her a "Ricky" – another mini golden doodle, that would be great. Time will tell.
Thank you for this blessing and you can't imagine the number of lives she has brightened in 8 short months!
Warmest regards, Linda Laurent
________________________________________________________________________________________________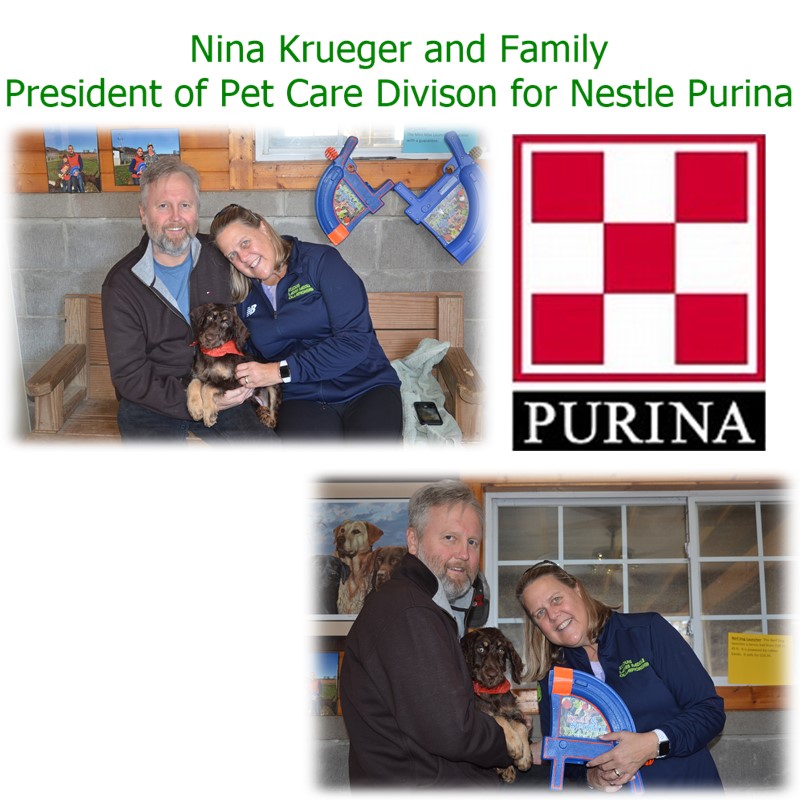 ________________________________________________________________________________________________
Stormy and Roscoe had a litter of Standard Size Goldendoodles on May 20.
She had 4 females and 6 males. She still has 1 females and 3 males available for a deposit.
Pic Updated 6/26/2023
(for updated pics please text 618-946-0617)
Info Updated 8/30/2023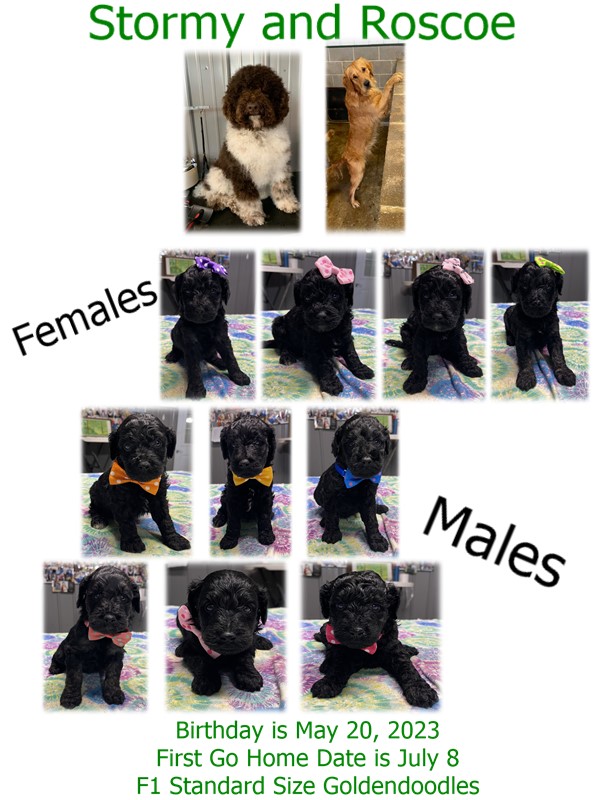 ________________________________________________________________________________________________
Elsa and Olaf had a litter of mini F1B goldendoodles on July 17.
Elsa still has 1 female and the 1 male available for a deposit.
Updated 8/30/2023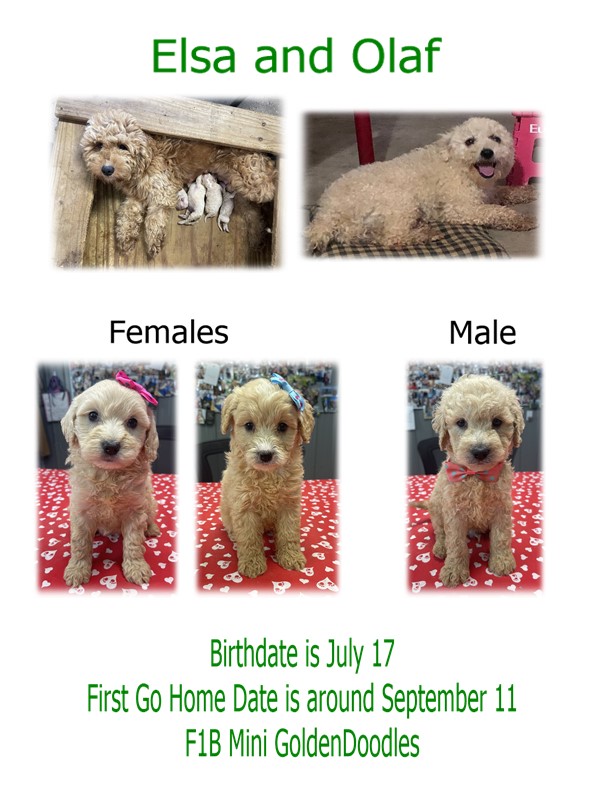 ________________________________________________________________________________________________